Trever Hagen : 'WONDER TOWN'
May 1, 2017
Music of New Reference is starting up a music label "kolo".
Trever Hagen : Out Now: Trever Hagen -WONDER TOWN

---
JCMR KYOTO Vol. 7
"Makoto Shinohara's Electronic Music Performance" (2012)
On May 30th 2012, we did planning of the sound system and the sound projection at "Makoto Shinohara's Electronic Music Performance" sponsored by JCMR KYOTO.

Date : May 30, 2012
Place : Kyoto Art Center
Sound system and projection : Ryoji Noumi, Takeshi Azuma
Planning : Koji Kawasaki
Organized by JCMR KYOTO (Yoshihiko Shimizu, Nao Takeuchi, Mayu Masuda)
---
JCMR KYOTO Vol. 5
"Toshiro Mayuzumi's All Electronic Music Performance" (2011)
On August 28th 2011, we did planning of the sound system and the sound projection at "Toshiro Mayuzumi's All Electronic Music Performance" sponsored by JCMR KYOTO.
We are not a musical engineering group, but we played back Toshiro Mayuzumi's electronic music based on 'Music of New Reference' which was developed from the event we held in the past.
Hopefully we will release the method in some way.
Date : Aug 28, 2011
Place : Kyoto Art Center
Sound system and projection : Ryoji Noumi, Takeshi Azuma
Planning : Koji Kawasaki
Organized by JCMR KYOTO (Yoshihiko Shimizu, Nao Takeuchi, Mayu Masuda)
---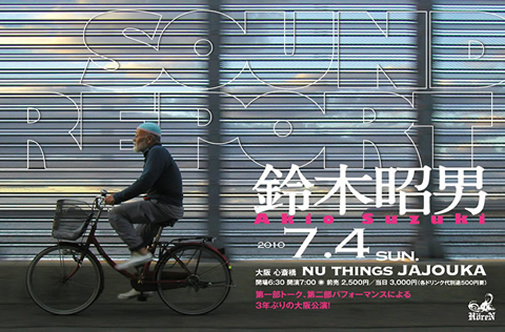 act : Akio Suzuki, Satoru Higashiseto
Date : July 4th, 2010
Place : nu things JAJOUKA
Organized by Satoru Higashiseto (HOREN) / Music of New Reference

"Akio Suzuki Sound Report" was successfully held on July 4th.
Here is one episode from the event.
---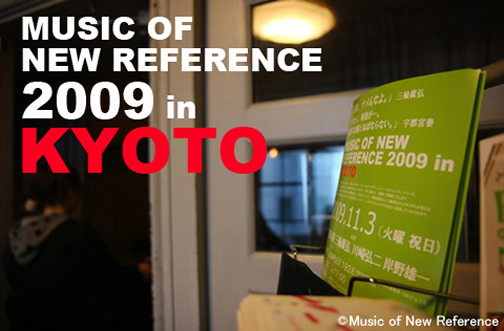 act : Yasushi Utsunomia, Masahiro Miwa, Koji Kawasaki, Yuichi Kishino
Organized by Music of New Reference

Music is dying. Although academic studies are not a form of art, they have evolved in a way to obtain the ability to explain ongoing events, and also the structures of art work in categories else from music.However, the more one studies music, the more the learner is driven away from the current form of music.
Academic studies should be a supporter of art. However, we need to give thought about what they lack, and also about when they have lost their requirements to be such supporter.We must accomplish this not just by logic, but in a way that anybody can understand…
Recording and reproduction are technologies that are familiar with music.
However, music has not been able to assimilate these technologies ever since their invention.
---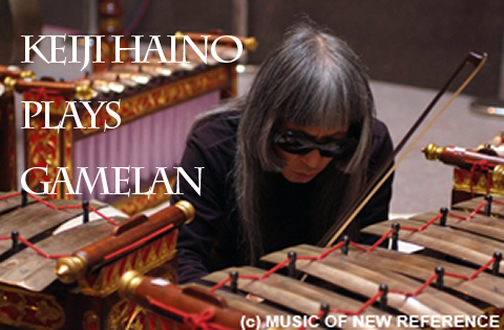 act : Keiji Haino, Yasushi Utsunomia, Satoru Higashiseto
Organized by Music of New Reference

Music is dying.

However, arguments about the loss of the artistic merit of music are rarely made, and when it comes to "listening" to music, the act is becoming worthless.
Why has this situation come about?
This might be because we are loosing our reference for music.
We have been pursuing this project, which concept has ambitiously been set as The Redefinition of a Reference for Music, arising from these concerns.