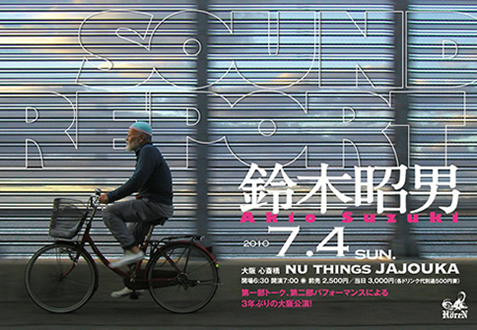 Event Report

"Akio Suzuki Sound Report" was successfully held on July 4th.

Here is one episode from the event:

In the first section, Akio Suzuki talked about his "Sa・ne・to・ri" bicycle journey, and performed music which came to mind during his visit to remains of the Yayoi Era.

For his last performance, he played through microphones so that the audience could clearly hear the quiet sound of the Tsuchi Bue (a whistle made from clay). After finishing the performance, he said,
"Wow, that was an interesting experience. I should have played it acoustically without the help of microphones! The microphones distorted the space so that there was a different sound. I could have guessed it. Didn't you hear some rasping sounds? That should never have happened! Spacial acoustics were altered because of the microphones, and the sound seems to have been screwed up, haha. Well, I say screwed up, but then the people in ancient times had no choice to play acoustically.... That made me reflect as a human in the modern era. Okay, I'm going back to acoustic!"


"Some important elements of music can be altered through the use of an electric medium."


This episode at the event perfectly highlights the concept of the conference 'Music of New Reference 2009 in Kyoto' on 3rd November 2009.

Right now, we are witnessing a decline in the 'power' possessed by music and sound. At the same time, electric sound technology is being used all around the world as standard. Over the last century, we have failed to notice that something important has been changing in music, and the discussion is constantly being put off as long as it is not clearly put in to words or theorized.
We all need to question this present situation, and most of the mysteries of music are buried in those questions.

Unfortunately, we human beings cannot abandon the use of electric sound technology once we have already obtained it.
The technology that we have incorporated into the field on a whim has had a strong influence on both the amplification of sound, and the neutralization of the 'power'.

However, in the same way that it is said that 'disliking someone just means you misunderstand them', we now face a time when the concept of 'electric sound technology for music' must be redefined.

When music is able to honestly absorb and assimilate electronic technology, human beings will be able to gain a whole new intelligence. Although there are countless challenges in the world of music, we would be grateful if you could work together with us to help resolve some of these issues.

19th July , 2010 Music of New Reference Ryoji Noumi, Takeshi Azuma, Hiroyuki Tomiyama
English translation by Tomoko Masukawa, Christopher O'Reilly


---

Archives data
Part 1: Talk Show
Akio is going to talk especially about 1000 km bicycle tour on which he had visited several remains of Yayoi era from Tango city to Shimonoseki, searching for the roots of Tsuchi-bue(an earthen whistle).
Part2: Performance
It has been 3 years since the last time he gave a concert in Osaka city.
Please enjoy his performance of Analapos、Tsuchi-bue and so on which will bring you what you can never experience through CD and pictures.
Date: Sunday 4th July , 2010 Open;18:30 Start;19:00
Place nu things JAJOUKA tel;06-6211-8711
Location OSAKA SHINSAIBASHI nu things JAJOUKA, Toporo51 B1F, 2-18-2, Nishi-Shinsaibashi, Chuoku, Osaka , Japan
Homepage Address: http://www.nu-things.com/index.php


Map

Price: 2,500 yen (advance ticket), 3,000yen (ticket on the day)
※You need to pay 500yen for a drink at the door on the day.
Capacity: 80 people ( Since the concert will be perfectly acoustic performances.) 


Staff
Reception  Junko Sonoda

Sound Recording, Movie, Photo
Tomo Saito, Tomoko Masukawa, Yukiyo Hamono, Hiroyuki Tomiyama, Takeshi Azuma, Ryoji Noumi
Organized by HOREN / Music of New Reference

© MUSIC OF NEW REFERENCE All rights reserved.